Entertain, Engage, Educate and Empower Curious Girls who Love to Make Things
The Babysitter's Club meets MacGyver in these charming stories about friendship, middle school, and the Engineering Design Process. All the fun, all the engineering-based life lessons, and a lot less babysitting.
With hands-on interactive tinkering projects the reader can build alongside the characters integrated into the story line, these books are perfect for anyone who loves to read, loves to make stuff, and loves to make stuff while they read!
Wren Sterling's mechanical mind and poor impulse control frequently get her into trouble. Can she use her powers for good, or is she destined to be everyone's favorite screw-up forever?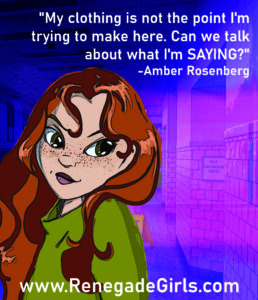 Amber Rosenberg loves both science and fashion, but will anyone ever take her seriously as a scientist?
Ivy Rose Park succeeds at everything she does. Some day she'll be an electrical engineer, but how can she fit in the extracurricular study with multiple sports, schoolwork, and the tinkering club? So much to do, so little time.
Kaminia Doyle may get constantly overlooked, but underneath her quiet surface lurks a gift for organizing, systems, language, and patterns. If she could lighten up and take a few risks, maybe even let herself fail now and then, who knows where those gifts might take her? 
"THE RENEGADE GIRLS TINKERING CLUB DIY ADVENTURES are the perfect next step for kids who loved Rosie Revere, Engineer, the Questioneers, are now enjoying the Girls Who Code books, and are ready for a more advanced reading level."